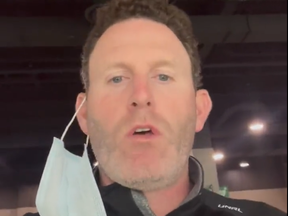 Article content
Former NHL defender Ryan Whitney has once again found himself in the penalty box but this time he's locked in at Pearson International.
Article content
"Pearson airport is hell on earth. The worst of the worst, "the former Pittsburgh Penguins star tweeted Sunday night.
Seems the analyst on the popular online hockey podcast Spittin 'Chiclets was heading home to Boston from Edmonton, where he was at Game 3 of the NHL Western Conference Finals, when he found himself stranded inside the terminal.
On Monday morning, he was still stuck there.
"I live at Toronto Pearson International Airport. The worst place on earth, "he tweeted.
Article content
Whitney described things as so bad and in such chaos that he even put up a meme of the Steven Spielberg movie The Terminal, in which a character played by Tom Hanks finds himself unable to leave the airport in New York.
"Not exaggerating," he tweeted. "I have never seen a crazier scenario at an airport. Pearson has about 100 cancelled flights and hundreds of people in lines with one Air Canada worker at the end. There can be no more than five people working here. I'm gonna have a viral meltdown. This is not good. "
Article content
Pearson is reporting many delayed arriving and departing flights and some cancellations as well.
Other passengers are posting pictures on Twitter showing massive lineups in the Customs area.
Fellow NHL commentator Darren Dreger replied to Whitney that on a recent trip, a "flight attendant" told passengers "the delays are specific to customs understaffing and encouraged on our flight to email our complaints to Customs officials and not Air Canada."
Article content
Clearly things are out of control at Pearson and an immediate intervention and solution is needed. Prime Minister Justin Trudeau should bring all members in the House of Commons for an emergency session on resolving this mess as soon as possible.
Saying last week "what we're seeing is significant surge in demand and supply is catching up to it," federal Transportation Minister Omar Alghabra announced expedited certification of 400 recently hired security screening officers and 25 new kiosks to try to speed things up.
But it won't be done fast enough for Whitney.
In a video posted to Twitter, he said he had arranged for a ride from Pearson to Buffalo, where he could fly from there on Jet Blue Airlines, but was unable to retrieve his bags from the airline to leave Pearson.
Article content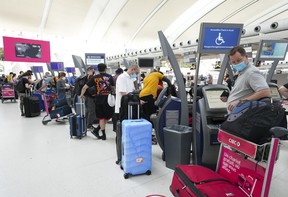 This was ironic because during their first-round playoff series against the Tampa Bay Lightning, the Toronto Maple Leafs chose to avoid Pearson and bused to Buffalo to fly from there.
So far, Pearson airport officials nor Air Canada have commented on the Whitney odyssey.
The 39-year-old, who amassed 50 goals, 209 assists and 383 penalty minutes in 481 NHL games from the Penguins, Anaheim Ducks, Edmonton Oilers and Florida Panthers, has not held back his opinion on what many travelers have been complaining about for weeks.
"I'm so shocked at this place," Whitney said. "It is the biggest disgrace known to man."
Seems a former American NHL tough guy is the one now calling the penalties – this time for delay of game on Canada's largest airport.
jwarmington@postmedia.com