Valtteri Bottas' Girlfriend Takes Over the F1 Baton With Former Lewis Hamilton Rival's Challenger
The F1 summer break has started with drivers flying off to vacation and spending time with friends and family. Alfa Romeo driver Valtteri Bottas is spending his time off with his girlfriend, Tiffany Cromwell. The Finn decided to give his girlfriend a taste of what it felt like to step into his shoes.
ADVERTISEMENT
Article continues below this ad
Bottas took Tiffany to Alastaro Circuit, in Loimaa, and put her behind the wheel in a driving lesson F1 style with himself as the instructor. She proceeded to test out a variety of vehicles, however, the main highlight and her ultimate test was when she drove 2016 world champion Nico Rosberg's Williams from his initial years in F1.
ADVERTISEMENT
Article continues below this ad
Both Tiffany and Bottas enjoyed a good adventure, and this was a brilliant day out for the couple. Bottas even posted a video of the two on his Instagram, captioning it, "The need for speed."
Valtteri Bottas spotted at Women's Tour de France supporting girlfriend Tiffany Cromwell
Valtteri Bottas has had a mixed bag of results this season driving for Alfa Romeo. However, the last four rounds have been extra tough for the Finn as he has not scored a single point. Bottas, after a third race without a point at the French GP, extended his stay in France ahead of last weekend's Hungarian GP.
DIVE DEEPER
The Alfa Romeo driver did this so that he could attend the women's Tour de France in which his girlfriend Tiffany Cromwell was competing.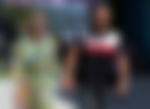 He was seen acting as her support team, handing out beverages as she competed on a stage of the week-long race. Bottas even tweeted out a video with the caption, "Race Support".
ADVERTISEMENT
Article continues below this ad
ADVERTISEMENT
Article continues below this ad
This is a sweet way to re-energize and re-focus after a difficult few rounds for Bottas. In the meantime, the F1 summer break has kicked off and the two have been vacationing together. Bottas will hope that the second half of the season brings some consistency as he looks to return to the track at the Belgian GP.
Watch this story: Charles Leclerc & Carlos Sainz Achieve Rare F1 Feat With Colossal Disney Lightyear Collaboration