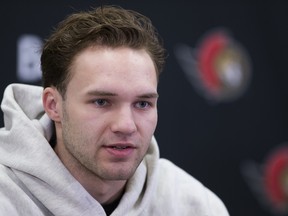 Article content
The tire-kicking has begun.
Article content
As the Ottawa Senators prepare for next month's NHL draft at the Bell Center in Montreal, general manager Pierre Dorion confirmed Monday there have been calls about what it might take for the club to deal its No. 7 overall selection.
"Teams have called and inquired about it, there's no doubt about it," Dorion told Postmedia in a telephone interview Monday. "When you speak candidly, and we've spoken candidly about the possibility that we could move the pick.
Article content
"If you're going to trade a future piece you've got to make sure that player can help help our team get to the next level. We're going to weigh everything, whether it's the pro scouts, amateur scouts, our management group or the coaches to see what decision is best for the Ottawa Senators. We'll be ready for any eventuality. "
Article content
The reality is Dorion may not receive his best offer until just before he's ready to step to the microphone on the floor.
"It does not have to be a decision on the floor or a night before the draft decision," said Dorion. "If we feel we've got an asset or a player that could help us immediately then we'll pull the trigger before. Sometimes the best offers come right before the pick is made. They can also be made a week before the draft. We'll just weigh those options before they come in.
"And there's always the possibility we take the pick."
Dorion spent two weeks focused on draft preparations by attending the scouting meetings with chief scout Trent Mann and the staff at the Canadian Tire Center. Then, Dorion traveled to Buffalo for the combine to meet with prospects.
Article content
If the club keeps the No. 7 selection, Dorion is confident the organization will do well.
"We know what we can draft at No. 7 and we know that player likely won't play for us next year, "Dorion said. "But we also want to know how much time it will take them and when they'll have an impact for us. We're going to take all those factors in and weigh all our options. "
The club will discuss the possibility of moving back in the first round but Dorion noted there's little chance the Senators will move higher than No. 7.
"Moving up is always very difficult. Moving up is always way more difficult than moving down, "said Dorion.
WAIT AND SEE
The club has held contract talks with some of its restricted free agents – including representatives for center Josh Norriswingers Alex Formenton and Mathieu Joseph along with defenceman Erik Brannstrom.
Article content
They'll receive qualifying offers but getting down to brass tacks in talks hasn't been easy.
"We've got to get some players under contract," Dorion said. "If it was up to me, I wish we could get every signed before the draft. We all know that's not going to happen. Agents like to drag the process on. We'd like to get a lot of our RFA's under contract and we've just got to show patience there.
"We want to improve our team and make sure everyone is healthy coming into camp."
SANDERSON BEING CHECKED OUT
Defenceman Jake Sanderson, the club's top prospect on the blueline, will be in Ottawa in the next week to have his surgically-repaired hand checked out by medical officials with the team.
He had a second surgery to repair an injury he originally suffered before signing with the Senators in late March.
Article content
"He's coming to Ottawa to make sure everything is good and he's training as hard as he can," said Dorion. "The recovery time for surgery has expired now."
THE LAST WORDS
Nothing is official, but the expectation is head coach DJ Smith's staff _ including associate coach Jack Capuano along with assistants Davis Payne, Bob Jones and goalie coach Zac Bierk _ will return next season. All have been offered extensions… Dorion has discussed adding to the front office but nothing has been determined. "There's no denying we're a small hockey group," said Dorion. "If we feel we can externally or internally to our management or hockey operations group, it's something we're going to look at. I like differing opinions and it's something we could look at before the draft. "
bgarrioch@postmedia.com