Several groups, organizations dive into water issue in Long Sault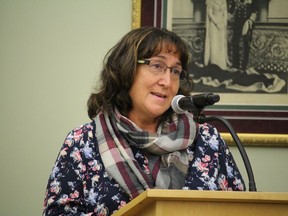 Article content
LONG SAULT – It was all hands on deck at a meeting designed to formulate approaches to draw attention to the ongoing low water-level issues in Lake St. Lawrence.
Article content
"I joined the Stormont Yacht Club in 1996, (and) water levels varied from year-to-year, but nothing like we've seen in the last five years," said club representative Nathalie Bray, one of numerous speakers at an Impacts to Lake St. Lawrence meeting at South Stormont council chambers in Long Sault.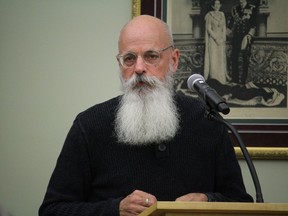 Bray touched on numerous low water-level issues for club members, including safety concerns and navigation hazards.
"(The low water) is slowly eating away the sailing region that we can use," she said, adding that a traditional outing across the river from the Morrisburg area to Waddington, NY, has had to be scrubbed in recent years because conditions have made it unsafe to dock on the American side.
Cliff Steinburg, the meeting organizer, who has been a voice for concerned local residents along the river in South Stormont and South Dundas, said the issue does not respect national boundaries. He said residents in both countries "share the pain" that there are indeed public advisory groups on both sides of the river pushing the International Joint Commission (IJC) to have a more natural flow of water, that that "would be in the best interest for everybody."
Article content
Steinburg, early in the meeting, referenced the IJC's Plan 2014, the regulation plan used by the IJC to set Lake Ontario outflows, which is soon to enter its phase two portion. Steinburg said he's spent hundreds of hours in Zoom meetings with IJC officials talking about the water levels; he said the problem isn't as much Plan 2014 as it is the frequent deviations from Plan 2014.
"Deviations do not favor Lake St. Lawrence and this area," Steinburg said, expressing concern about what will happen when the new phase kicks in.
There was a wide range of presentations at a meeting that included at the head table South Stormont Mayor Bryan McGillis, who early on highlighted water level issues, which he said included environmental problems, declining property values, and boating and shipping issues.
Article content
"We have a lot of experts here this evening who can give us some insight (into the issues and best approaches to take)," McGillis said. "You need to keep things safe out there (on the water) but right now that's not a possibility."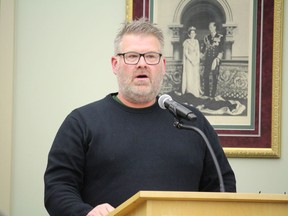 It's a challenging problem for the IJC that has it controlling outflows from Lake Ontario, largely to avoid potentially devastating flooding. But it was SDSG MP Eric Duncan who ripped the IJC mainly because he believes it doesn't do a very good job of communicating with those affected, especially those in eastern Ontario affected by low water levels.
Duncan said that he's viewed the issues through a federal lens, and that he can confirm "there is non-partisan frustration with the ICJ" and one of his biggest problems with it is a communications gap.
Article content
Duncan specifically referenced a recent CTV News Ottawa report, and that it did not include any comment from the IJC. Why not? The request for one was made by the news organization, but it got bogged down in the bureaucracy and there was no response before the deadline.
Duncan said he expressed frustration about similar issues at a recent meeting with IJC officials, and he noted the commission did not have a representative in attendance in Long Sault.
"This is the battle that I've lived and breathed the last few years," Duncan said matter-of-factly. "This is the challenge we are facing in trying to do something."
Duncan said he told IJC officials they need to be putting out more news releases, that while residents of some regions might not like the content, at least they'll be kept in the loop.
Article content
"Their communication plan makes the situation worse," he said. "Their silence breeds mistrust, or (at least the perception) that they don't care."
Speakers at the meeting included Tim Robins, recreation manager with the St. Lawrence Parks Commission, who said the commission's biggest concern is getting boats in and out of the river. As for boat ramp access at campgrounds, "it's just not there," he said. "As of Aug. 15 those ramps are almost unusable."
"Water levels continue to drop, and this continues to affect access to our facilities."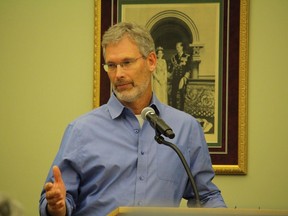 Dr. Jeff Ridal, executive director of the River Institute, spoke at the meeting, and discussed desktop studies on water levels and fish habitats that the organization has done for the IJC, but that on-site studies, that are much more expensive, would yield more information on the effects of water levels on the environment.
"The IJC is very data-driven," Ridal said, adding that studies based on field work could be much more influential. "It would help sway the decision-making. It's a lever, one of many elements in the decision making."

Richard Pilon (Raisin Region Conservation Authority) and Sandra Mancini (South Nation Conservation) were among the speakers at the meeting.