Rumble at Humble features local boxing talent Dec. 9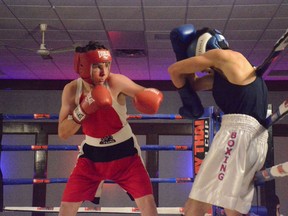 Article content
Rumble at Humble is returning for the second time to the Town and Country Center on December 9, with boxers from Airdrie and across Alberta showcasing their talents in the ring throughout the evening.
Article content
The evening will feature a card of 14 amateur boxing matches, with seven Airdrie boxers stepping into the ring. Clubs from Calgary and Lethbridge will also be attending.
This time around, Rumble at Humble will be raising funds and food donations for the Airdrie Food Bank and Kids Up Front. General admission tickets are going for $25 each, but Humble owner and coach Lucas George said attendees can get discounts on their tickets if they bring non-perishable food donations.
"We're going to give people $5 off of every ticket admission for every non-perishable food item they bring in. We're hoping to get a whole bunch of food for the Food Bank," said George.
"We're also doing 50-50 tickets, and giving all of those funds back to charity."
Article content
Humble boxer and coach Wade Hodgson will be competing in the headlining event for the evening in an elite open matchup consisting of three three-minute rounds.
Dynamite Boxing, Bowmont Boxing, and Southpaw boxing will also be attending to compete throughout the evening.
With a couple of rematches set up for some Airdrie athletes, George said Humble boxers are hard at work preparing for the evening.
"Everybody is super excited, and they've been waiting for this event for the last six months. They're chomping at the bit," he said.
"We put on a good show. Lights, smoke—we have it all."
He added that a hopeful outcome of the show is to attract Airdrie residents to the sport of boxing.
"We're really looking to pique the interest of Airdrie. Not just the youth, but also the adults to just give boxing a try," he said.
Article content
"We want to show people that it's an Olympic sport. People of all types do it, and it's just a great sport."
Humble Boxing is partnering with Crooked Cinema to livestream the evening, so with cameramen ringside, even folks who can't make it out in person can catch the evening's card from the comfort of their own homes.
Groups can opt to purchase a table for five at the event for $500, featuring dinner, as well as unlimited wine and snacks. Corporate tables are also being sold for $1,000.
An added benefit for corporations who buy tables is some publicity, as they will be showcased and featured throughout the event livestream, said George.
"Not only are they going to be at the event itself, but they will also be broadcast and promoted around the world through the livestream."
Article content
Rumble at Humble was introduced earlier this year as a way to showcase local athletes, give boxers the chance to fight, and support community charities.
The initial idea was to host two per year, but George said the club is looking at throwing in another annual event with a women's-only boxing card, which is expected to come in March.
The club is also considering introducing a three-month boxing crash course for women to get them prepared for a bout at the event.
"We've got 12 pink belts on order to have a women's-only event for women all over Alberta. We want to bring awareness to women in the sport, because we just don't see enough of them," said George.
Folks can buy their tickets now at eventbrite.ca by searching for Rumble at Humble II, but with 400 seats available for the night, plenty of tickets will be available at the doors when the event kicks off at 6 pm.