MXoN Ballot – RedBud 2022 gate picks
The MXoN 2022 Ballot has been drawn in RedBud, and the host nation, Team USA, will be reasonably content with a 15th-place gate pick.
MXoN holders, Team Italy, enjoyed a boost in the des Nations Ballot with 6th pick, but it was tough for Team Australia and Team France with 23rd and 30th, respectively.
Team GB shouldn't be too disappointed with 17th in the MXoN Ballot, although it would have been nice to get the Netherlands spot, which was drawn out of the pot early and received the fourth gate pick.
The biggest draw of breath in the room was for the opening pick. Morocco was first out of the pot, and there was an audible surprise across the room as they drew the number one slot.
Team Ireland suffered a rough draw with 26th, while Japan was 24th. Spain is 19th, Germany 12th and Honduras got stuck with the last pick for Saturday's MXoN Qualifying races. We've got the video of the 2022 Motocross of Nations Ballot below, and if you scroll down, you can see a complete list.
https://www.youtube.com/watch?v=/AKNsaXi5eag
2022 MXoN Ballot – RedBud
| Draw (Gate Pick) | Country |
| --- | --- |
| 1 | Morocco |
| 2 | Switzerland |
| 3 | Latvia |
| 4 | The Netherlands |
| 5 | Estonia |
| 6 | Italy |
| 7 | Canada |
| 8 | Ecuador |
| 9 | Sweden |
| 10 | Israel |
| 11 | Belgium |
| 12 | Germany |
| 13 | FIM Europe |
| 14 | Chile |
| 15 | USA |
| 16 | Norway |
| 17 | Great Britain |
| 18 | The Philippines |
| 19 | Spain |
| 20 | Finland |
| 21 | Brazil |
| 22 | Lithuania |
| 23 | Australia |
| 24 | Japan |
| 25 | Mexico |
| 26 | Ireland |
| 27 | Venezuela |
| 28 | Guam |
| 29 | FIM Latin America |
| 30 | France |
| 31 | South Africa |
| 32 | Iceland |
| 33 | New Zealand |
| 34 | Honduras |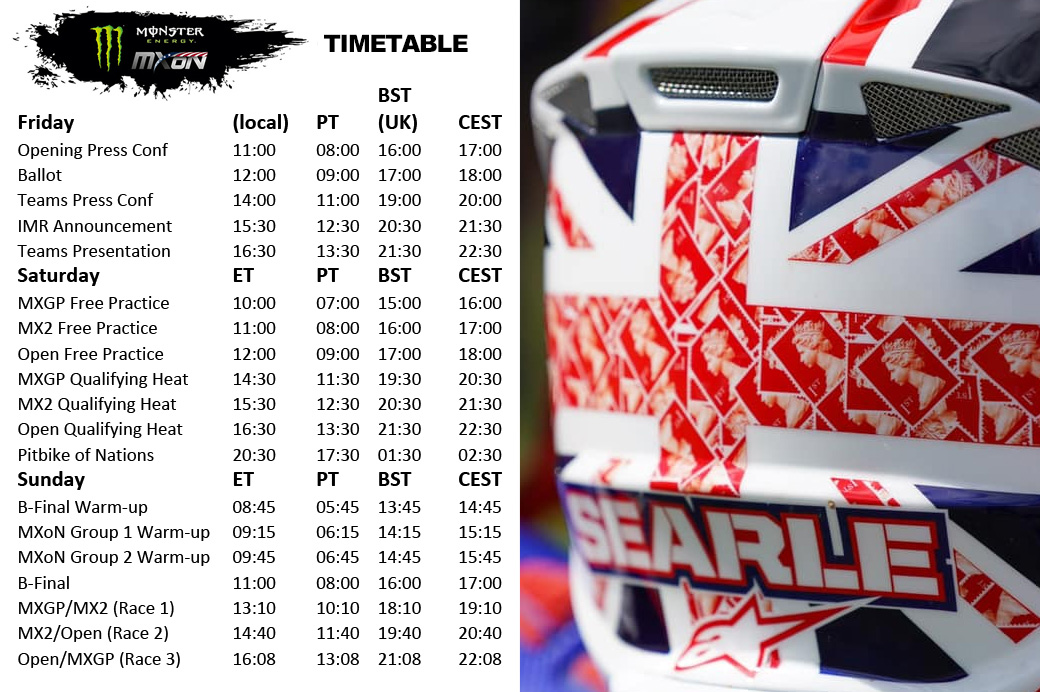 Also In MXoN