The start of NBA free agency is just a few weeks away. Although watching the Lakers play in the Finals is much more satisfying, there is a certain level of excitement surrounding July 1st for this Lakers team. They already have their new head coach in Darvini Ham and now, it's up to the front office to build a more cohesive roster that hopefully won't lose 49 games and miss the playoffs entirely.
Due to the Lakers limited salary cap resources, they can't be too picky. They're going to have to go bargain bin shopping once again and do they leg work to ensure that the players they're signing on the cheap will fit into Ham's overall strategic vision for the team.
They need everything: guards, wings, and big men.
As far as big men, The Athletic's Jovan Buha noted six more traditional style bigs that LA should target in free agency.
Kevon Looney
Looney has lost much of his athleticism in recent years, but he's become a valuable starter on a championship caliber 2022 Warriors team that's just two wins away from a ring. He's played with two of the best shooters of all-time for his entire career at Golden State so he understands spacing, passing, and rebounding better than most bigs his age.
Javale McGee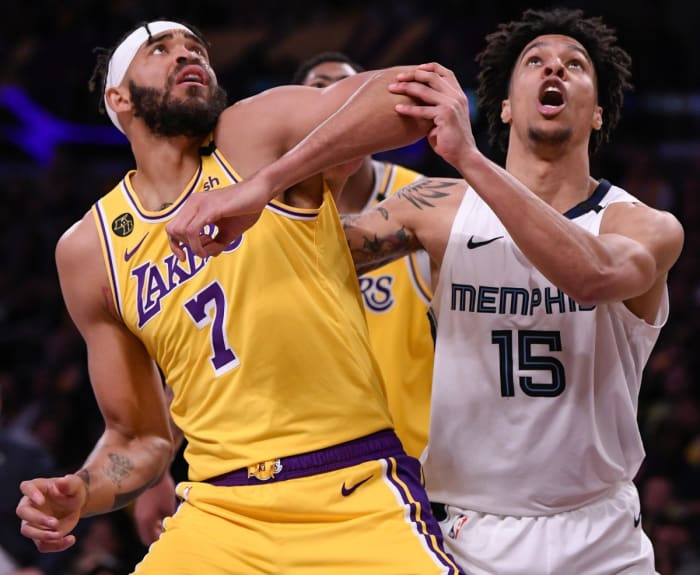 There's plenty of Lakers fans who thought letting McGee walk after helping the team win a championship in 2020 was a mistake. This past season, McGee was a solid rotation player on a 64-win Phoenix team. McGee is already fully aware of how to operate with Anthony Davis and LeBron James on the court and would be a great plug and play for LA.
Damian Jones
As was mentioned previously, the Lakers can't be too picky this summer with free agents. Jones is a former first round pick who's bounced around a bit, including an 8 game stint with the Lakers last season, after spending his first three years in Golden State. He's not a stretch-five (0.5 3PA / G this year), but could provide some strong minutes off the bench.
Isaiah Hartenstein
Hartenstein was the Rockets second round pick in the 2017 draft. The seven-footer played 68 games for a Clippers team that far exceeded adjusted expectations after Kawhi Leonard and Paul George suffered severe injuries.
The sample size is small (165 games), but Hartenstein is a low-volume, efficient scorer (60.0 FG%) who converted 14 of his 30 (46.7%) threes with the Clippers.
Bismack Biyombo
Three. That's how many career three-point attempts Biyombo has in his 11-year career. He's a true, big-body-don't-pass-me-the-ball center who fully understands his role on a roster.
The former number seven overall pick in the 2011 draft signed mid-season with the Suns. The 29-year-old could be a good value on a veteran minimum contract, but best to keep expectations low.
Nic Claxton
Claxton's profile seems to be benefiting from Jarrett Allen's recent leap from Brooklyn rotation player to Cleveland All-Star. But some of it is warranted. The 6'11 "lefty center played 24.5 MPG for Brooklyn in the first round of the playoffs this year and averaged 10.5 PPG on 79.2% shooting.
Lakers: LeBron James & Dwayne Wade React to Steph Curry's Monster Game
.