Athletics Ireland not surprised by Munich success
A week to savor for Irish athletics at the European Championships in Munich.
Medals for Ciara Mageean and Mark English were the high points, but others also made their mark in making finals and improving on their personal bests.
For Paul McNamara – director of high performance with Athletics Ireland – it was a week where expectations were realized and then surpassed.
Reflecting on the championships, he told RTÉ's Morning Ireland: "It's been outstanding. We came in here with high ambition, we looked at the data, we looked at the seedings, and looked at the performances of each athlete coming in.
"We had set lofty expectations, we were thinking seven to eight top-eights, a chance of a medal for seven to eight top 16s. That alone would have been the most successful championships we've ever had but our athletes have blown the lights out all week long and have exceeded expectations.
"The Irish athletics public are a very knowledgeable group of people and are very switched on. From the very first day of these championships they were responding to the performances and began to realize there is something a little bit special going on here.
"The week-long time slot in the month of August with the inter-county GAA season over gave us a platform and a shop window.
"There is no doubt that this was unambiguously a successful week for Irish athletics for many, many reasons. We've really embraced the public profile the sport has been afforded over the last week."
The signs that Munich could deliver something tangible were there, according to McNamara, adding that team management "were not surprised" by what unfolded.
"This has been growing for championship after championship. We had a World Championships in Eugene earlier this year, time zones and lack of television coverage meant it didn't get the same shop window but, if you look at the numbers, there was significant improvement on previous championships in Doha and London.
"Prior to that, you look at other key events. We hosted the European Cross-Country Championships in Abbotstown last December. We finished third in the points table behind Great Britain and France – the super powers of European Athletics.
"It was the most successful champs we've ever had – incremental improvement over the last number of champs. This has been growing for some time. Team management were not surprised at all by the success this week. We were expecting a really comprehensive result throughout the entire team. We had 25 athletes with an A standard – the toughest A standard ever imposed by European Athletics.
"Thirty individual athletes had the B standard which we imposed, the toughest standard that we've ever had. There is comprehensive, systemic progress throughout the sport at the elite level."
It goes without saying that coaching is key in nurturing and developing the potential of our athletes, with Athletics Ireland highlighting its importance in their recently published high-performance strategy. The high-performance system is there to support the coach-athlete relationship and to remove any obstacles that would hinder any progress.
McNamara feels Athletics Ireland have served the relationship well so far, albeit with finite resources.
Gaining greater funding and professionalizing the coaching role even more is the next step.
He continued: "Coaches are incredibly capable and competent people. It ultimately is a resourcing issue. We are very well funded by Sport Ireland.
"We generate a good degree of our own funding through commercial revenue. But ultimately athletics is a very wide and diverse sport. The paradigm used in high performance programs would be a performance director and one head coach working with a group of athletes.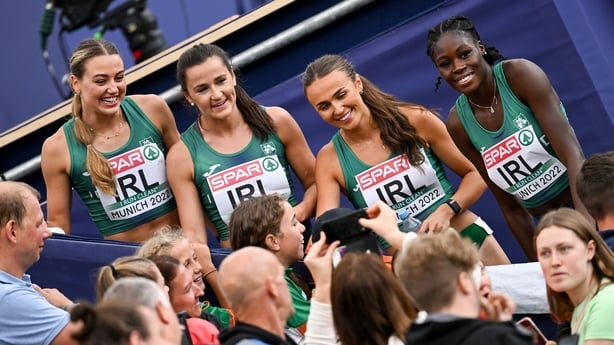 "That paradigm simply doesn't work in our sport because of the diversity in the nature of events – from jumps, to throws, to sprints, to distance. In any one of those groups you can break it down further. There are a plethora of coaches involved in any high-performance unit at this level.
"Coaching for some is viewed as a hobby, where others commit more to it as a career. We have said in our recently published strategy to incrementally professionalise coaching. We have identified a couple of key deliverables in our strategy as to how we go about doing that, starting this autumn. We will be looking to contract a number of coaches who work with our leading athletes towards Paris 2024 and LA 2028.
"All credit to our athletes they really have made hay this week"
"We will be looking for better support for key performance groups that provide a focal point for our better athletes. We will also be looking to engage with some third level colleges with the right facilities and the right athlete cohort to build out those performance hubs in that environment. Again we have committed to these deliverables and will start working on them very, very quickly."
Support at the grassroots level will also help in finding the stars of the future, with McNamara happy that "everything that can be measured in our sport is improving". He also had figures at hand to support this.
He added: "Your own Greg Allen described the sport as a sleeping giant. It gets a shop window in the media about once a year and it has to make hay during that week. All credit to our athletes they really have made hay this week . I'm involved in coaching juveniles at home in Roscommon and those guys have been glued to the television all week long. When I started working for Athletics Ireland in 2006 we had 18,000 members, we're in excess of 60,000 members at the moment .
"The number of clubs has grown massively over the years, the number of juvenile athletes participating has increased enormously. Facilities, indoor arena in AIT and the indoor arena in Abbotstown are now there. Everything is going in the right direction; everything that can be measured in our sport is improving.
"We have a development team led by Pat Ryan that does incredible work in the regions, in the counties, at grassroots level. I think the work that has been done there since 2006 has paved the way for the success we've seen in Munich ."